Street Life By Tom Shropshire
WELCOME TO MY ARTIST'S WEBSITE
I hope you enjoy my paintings and come back often because this site is updated frequently. By clicking on the "My Paintings" option above you will be taken to a page where you will see paintings grouped by collections of similar types, such as "Cityscape" 0r "Earth, Wind, Water and Fire". Select a category and then click on the paintings to enlarge the images. Red dots indicate SOLD work, but often there will still be open edition prints available in a variety of sizes and prices.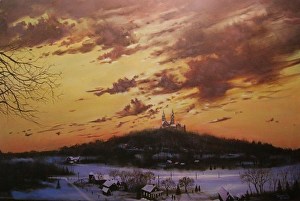 Winter's Eve at Holy Hill
This is the first painting selected by the Milwaukee Journal Sentinel for the front page on Christmas day
JOIN MY NEWSLETTER GROUP TODAY!
Please take a moment to join my exclusive newsletter group. Occasionally, I send out my free newsletter to announce new paintings or other news. I will send updates and/or special offers as well as timely information, and of course, your information will never be shared with a third party. As a thank you, I will send you a post card of the painting "Winter's Eve at Holy Hill", shown above.
The complete content of TomShropshire.com, TomShropshire.FineArtStudioOnline.com and ShropshireArt.com is protected by U.S. and International copyright laws.
All Rights Reserved. Copyright © 2008 - 2013 Tom Shropshire