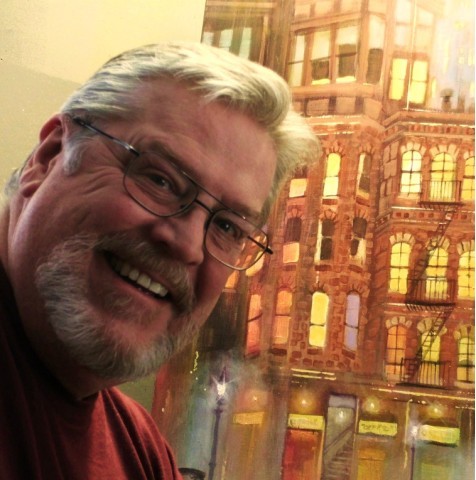 TOM SHROPSHIRE
His most recent work includes vivid Impressionistic paintings of night city scenes and the urban landscape. These atmospheric night cityscapes have become widely known as his signature style.
"I am a painter of contemporary night city scenes, Urban Fantasy scenes and narrative works inspired by pop culture, film, and pulp fiction. I try to express mystery, beauty, and wonder in all my work. City lights glittering like broken glass have always fascinated me. The sparkle of city lights, flashing signs, and the pulsing glow of traffic, create a sense of excitement and an underlying feeling of danger and edginess that is almost intoxicating!" ~Tom Shropshire
HOW IT ALL BEGAN
"I was born and raised in Milwaukee and began my art career in this great city by a great lake! As a teenager I was awarded scholarships to the Saturday Art Program at the Milwaukee Art Museum. Some of the best and most talented student artists in the city were given an opportunity to create art with professional materials and study with top notch art instructors every week. We were also given free reign of the art museum and its world class collection of art to study, discuss, inspire and enjoy. I knew my way around the art museum like my own room. What an opportunity for a young artist to have! But the best part was meeting other kids that loved art as much as I did."
TRADITIONAL WITH A TWIST
A lifetime artist, Shropshire's career began early. By the age of thirteen, Shropshire had his first professional art training in adult studio classes with renowned watercolorist Earl Gessert. By age fifteen, he had an agent in Chicago, a solo exhibition of his work, and was competing and winning awards in exhibitions at a national level. His career has spanned over five decades and continues to evolve even today.
In a sea of sameness his work stands out as unique and different, and that difference is a good thing ...or as he calls it, Traditional with a Twist.
Tom has won recognition and numerous awards during his career and his paintings are represented in museums, cultural centers and many private and corporate collections worldwide, including Northwestern Mutual, Thrivent Financial, and the Milwaukee Journal Sentinel. His paintings have been featured on the covers of national magazines and on the front page of the Milwaukee Journal Sentinel. He is also a popular painting instructor with a loyal following of students and collectors.
Informed Collector Recommends Artist Tom Shropshire
Quote from article: "Fantastic ideas and intense situations captured on canvas with a modern dramatic twist."
FASO Featured Artists: Artist Tom Shropshire
Submitted by bsherwin at 11/1/2012 12:41:39 PM CST
Quote from article: " Shropshire has explored abstract art and fantasy art with the same dedication he displays for more traditional directions in painting. (Carrie Turner)
Holy Hill Met Artist's Storylike Visions
Quote from Article: "Winter's Eve at Holy Hill" by Tom Shropshire was selected by Editor Martin Kaiser, Publisher Elizabeth Brenner and me as part of a new tradition to put a work of art by a living Wisconsin artist in the paper on Christmas Day. (Mary Louise Schumacher of the Journal Sentinel)
ARTIST'S STATEMENT
"I don't care about an artist's rhetoric, philosophy, biography or fame …I only care about how well they can paint, if I like what they paint, and if I feel an emotional response to their work. Feel free to judge me by the same standards." – Tom Shropshire